Bear Hugs and Kisses Valentine's Day Party Theme
Are you planning a Valentine's Day Party for your little ones and looking for a fun theme? If so you may want to consider having a Bear Hugs and Kisses Theme and I am going to share everything you need to pull it off right here.
First let me start with a little background on how this theme all came about. A fellow trendsetting party girl known as the Superchick and also the genius behind Kandy Kones, which are theme inspired cones on a stick you fill with fun goodies, had become a little bored lately in the styling department. Yes it happens to the best of us from time to time. So with that she put a shout out to all her Party Peeps and created a fun Valentine's Day Kandy Kone Styling Challenge.
I love me a good challenge and being I am NOT a stylist by any means I thought it would be fun to challenge myself and take part. Being I love her Kandy Kones from the moment she introduced them to the party scene as you can read in my post here from 2010: Kandy Kones are a Unique way to serve the Kids Treats at your next Party and you can also see them in use at one of my daughter's birthday parties here: Groovy Tie Dye Birthday Party Theme. I have also used some for the kids on Easter one year as well. So being I loved the product it was a no brainer to take part.
So here were the Rules:
We needed to come up with a Theme and a color Palette.
Easy enough – I came up with Bear Hugs and Kisses for my theme and my color Palette was going to be Red, Pink and White for Valentine's Day.
INCLUDE all 6 custom Kandy Kones (designed and sent to us by the Superchick) in our VDay table design!
FILL them creatively!
OK game on!!!
So what was in it for me?
 I would be up against 7 other amazing party girls in this challenge and the judges: Genevieve the Superchick herself along with Bird from Bird's Parties and Courtney from Pizzazerie.
The Prize for the Winner of the Challenge: A Feature in a Brand New Ezine Launching January 30th
Truly for me it was just about challenging myself to style a table – I usually do not do this because I am more about activities and treats at a party vs. all the fancy table display stuff, but I knew I could incorporate what I do into this and that was my goal. Even though this was not a "Real" party in the way that I had invited guests over I wanted it to be doable for the everyday parent. So many times you will see these fabulous party tables in photos and while they look amazing for most of us they are just not something the average person can throw together and act more as an inspiration. While I think that is great I wanted my table to be both ~ Inspirational and Doable.
So come on and lets see if I pulled it off….
Once I had my theme chosen and my color palette the Superchick went to work. I gave no other instructions as she took those two things and went to work in her Kandy Kone Workshop. I could not wait to see what she came up with. When my Kandy Kones arrived shortly after they were PAW-fect!!! Bling and all ❤
So here it is my Bear Hugs and Kisses Valentine's Day Party Table
My table is full of EASY to make Valentine's Day treats and fun activities for the little ones.
Best part is I am going it break it all down for you and share the recipes, activities and FREE Printables so you can create this party at home just like I did – Yippee!!
My Banner is simple, I created it and printed it out on Card Stock – I also added some glitter around the edges which is hard to see in photos, but was all sparkly in person. I always like to use glitter glues when doing this to avoid the mess of loose glitter – my tip to you. The picture you see of the bears hugging and kissing I had my daughter draw for me to get her involved too. She is 12 and is amazing at creating in her digital art programs.  I then just hole punched them and threaded them onto Jute (I love Jute it is my favorite). I did not hole punch BEAR, instead I hung them using clothes pins. Simple and EASY!!!
And guess what if you like this banner you can print it for FREE to use as well here:
  FREE Printable BEAR Hugs and Kisses Banner
Next let me talk about my focal point and of course that was the Kandy Kones. My Kandy Kones are filled with Teddy Graham Bears and some Hershey's Hugs and Kisses and being offered up to the kids by two adorable Teddy Bears. These adorable Teddy Bears are available on my main website The Party Animal and can be purchased ready to be stuffed by the kids. The T-Shirts are also available on my website as plain White T-Shirts ready to be decorated. I decorated these by simply using Fabric Markers and then topping that off with some fabric glitter so they sparkled.
So far so doable right? OH and you can order these same Kandy Kones for your party via Superchicks Website HERE.
Now let me show you all the yummy treats I made for my Valentine's Day Party:
No worries I will also share with you step by step tutorials on how to make all of the treats I made. Forget the store bought boring stuff, this is a Party and kids like to see fun food to snack on!!
Paw Print "LOVE" Cupcakes – How cute are these Red & Pink Cupcakes adorned with Paw Prints in Hearts? The Paw Prints were made with Vanilla Chocolate to give the kids an extra yummy treat in addition to their sweet cupcakes.  See my tutorial HERE.
Pink Marshmallow Popcorn Balls  – I had never made Popcorn Balls before, but I kept seeing them all over Pinterest and thought they would make a fun addition to a kid's party. I had heard kids are crazy for these and to make them fit in with my theme I turned them pink by adding in some food coloring. I must say after eating one myself I am hooked and see why kids love them, they are delish!! See my tutorial HERE.
XOXO Cookies – I had to add in more Hugs and Kisses right? So using my X and O Cookie Cutters
I made up my favorite cookie dough and baked some up (see my recipe HERE). I then made a cookie frosting and frosted half in red and the other in pink – or course I covered that with red and pink sugar on the top so they sparkled too!!
Heart Shaped PB&J Sandwiches – OMG these were so fun to make – I used a new gadget I had picked up at the thrift store to make the bread homemade. It is a Baking Tube/Bread Mold
that bakes the bread into shapes, this case a Heart shape and it was perfect timing that I had found this. It took your ordinary PB&J to a whole new level of LOVE. Of course if you are going to have PB&J at your party be sure there are no kids with peanut allergies coming first. They tasted so good too – they were all gobbled up by the family very quickly. See my tutorial HERE.
Heart Shaped Veggies – Even though my party was mainly made up of desserts I always have a healthy option available and in this case I had some Cucumbers, Tomatoes and Carrots along with some Ranch Dip for dipping. BUT to kick it up a notch I cut them into heart shapes, that will help the kids dig in right? It was so EASY to do see my tutorial HERE.
Valentine Chocolate M&M Pretzel Buttons – Another favorite treat are these Chocolate M&M Pretzel Buttons – we LOVE these in my house and again they are so simple to make. Just pretzels, chocolate melting wafers and M&Ms. I used Vanilla Chocolate Wafers and Valentine's Day M&M's which come in Red, Pink and White. Yum Yum Yum. See my tutorial HERE.
Valentine S'mores Trifle – This Trifle is layered with sweetness the kids love – Devil's Food Cake, Chocolate Pudding, Cool Whip mixed with Marshmallow Fluff, Layers of Crushed Graham Crackers and Chocolate Chips with some Heart Peeps for Valentine's Day. Looks so nice on the table and begging to be dug into and trust me it will happen quickly as it did in my house. See my tutorial HERE.
Pink Milk and Lip Straws – No way can you have a table full of sweets without a nice cold glass of milk to wash it all down. I put some milk in Ball Jars, tied a ribbon on them and printed up some lips and added bendy straws to add some fun and giggles when it is drank. I also added an outline of red glitter to the lips for extra sparkle. OH and I also added a drop of red food coloring to the milk to turn it pink to match. Want some lips for your party? You can print and cut some out here: FREE Printable Straw Lips (they are on the last page of this printable file).
Chocolate Covered Rice Krispy Treats on a Stick – Also on my table were these Valentine Chocolate Covered Rice Krispy Treats I sell on my main website. I picked out the perfect ones to match my party theme – Hugs and Kisses (X and O), Lips, Heart and Bears with Hugs written on them. Hard to see in the photo, but they also sparkled with sugar. These babies are HUGE in size weighing in at 3-4 ounces each, they come individually packed and on a stick. The kids can snack on them at the party or take them home as a party favor. They are made fresh to order and come in 100's of designs – you can order them from my website here: The Party Animal. P.S. – They are sooo good!!!
I also had some other candies on the table in addition to all my homemade ones including and never left out – Conversation Hearts!!
Time to talk Valentine Party Games and Activities for this Party:
Have some fun with your Conversation Hearts and use them to play games before eating them all.
Take a look at my post 5 Fun Valentine's Day Games using Conversation Hearts which also has a FREE Printable Conversation Heart Bingo Game I created almost 2 years ago and has been a big hit.
This basket of bears are waiting to be stuffed by the kids to take home and Hug and Kiss. Yup the kids get to Stuff these Bears by hand and insert a "Love" Heart inside them before easily closing them up with the velcro closure on the back. Then using some Fabric Markers they get to design a T-Shirt to dress them up in. How fun is that? Kids love this. So where do you buy these? Uh my website of course where you have the choice from tons of Stuff a Plush Animals – These Bears are the Baby Bear Assortment and you can find them and more here on my website: The Party Animal.
So there you have it my very first completely styled party table, not too bad for my first time right? Best part is I think anyone can create the same table at home following all my tutorials.
I hope you will have a Bear Hugs and Kisses Valentine's Day Party Theme and if you do I would love to see it so send me photos.
Now back to the Valentine's Day Kandy Kone Styling Challenge and the 7 other entries.
I have to say how impressed by how different all the submissions are, as well as the themes.
Here is a peek at each of them:
Stop by their blogs and take a look at all their photos for even more inspiration.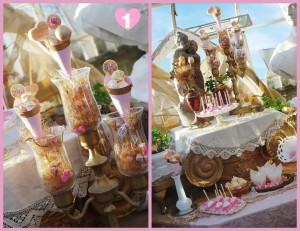 Audrey from Sweet Cheeks Tasty Treats with Love Is Golden!
Jasmine from IDEA! Event + style with Mint To Be!
Feather from Printable Parties To Go with Cupid's Candy Shoppe!
Melissa from Truly Chic Inspirations with Lovestruck!
Lauren McKinsey with I Pick You!
Talia from Luxe. Event Design LLC with VDay B.L.U.E!
JoAnne from Oh Goodie Designs with Love Is Wild!
Great Job well done by all. That was so much fun and I am glad to have taken part.
MY daughter could not wait to steal one of the Kandy Kones !!